Does Your Marketing Work as Hard as You Do?
Are you looking for a better way to generate leads and close customer deals? Are you spending more and more on your paid advertising campaigns and seeing smaller and smaller returns? While online ad spending is going up, so is the complexity and fragmentation of the online advertising space, making it harder to see if your marketing efforts are effective. For example, a December 2015 study revealed that only 37% of small business owners thought their online marketing efforts were helping to grow their business. Even more shocking was that 14% of the respondents said they had no idea if their marketing was effective!
Yet more than 50% of respondents in the same survey planned to spend more on their online advertising and social media in the coming year. How do we break this cycle of paying more for marketing without knowing if it's working?
What the Heck is Inbound Marketing?
To understand inbound marketing, let's first define outbound marketing. You're already very familiar with outbound marketing, even if you don't call it that. Marketers in the 20th century perfected the use of advertising that pushed messages out to potential customers through print, TV, radio, and billboard ads. Every time you buy search ads on Google, pay to have a video ad play before a Hulu show, or place banner ads on websites, you're using outbound marketing to build awareness and influence customer behavior.
---
With outbound marketing, you're chasing down potential customers
and competing for their attention.
With inbound marketing, the customers come to you.
---
Inbound marketing focuses on attracting qualified traffic to your website and online properties, converting those visitors into leads, closing them as customers, and then delighting them so they tell others.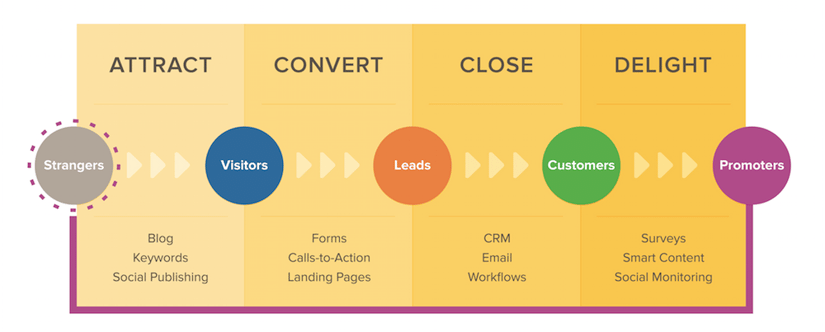 Your marketing efforts become more timely, relevant, and personalized for your prospects, resulting in more engaged buyers and better conversion rates for your marketing and sales teams and a more scalable cost per customer acquisition.
How does this work?
Your customers' behaviors are changing both online and offline. For a more detailed look at this, check out the LoSoMo ZMOT blog post as part of this Capture to Convert series. In all of this changing landscape, several behaviors are emerging. First, customers are skeptical of advertising and brand promises. Second, customers expect more information when making a purchase decision and conduct a lot more research, especially online. Finally, they are quick to tell others online when they've had an exceptional or horrible experience.
Successful inbound companies provide valuable content at multiple points during the decision making process, creating a relationship between the potential buyer and the seller. This provides several opportunities for you as a business owner or leader:
You can guide the right qualified prospects to a buying decision faster when you engage earlier

Lead quality can be improved by providing content that disqualifies leads organically and causes qualified leads to identify themselves.

Your insights into the buying decision can be more robust and data-oriented since you start tracking prospects earlier in the process.
Your sales team can get richer information about prospects before they even pick up the phone, enabling them to prioritize prospects and tailor their approach.
So now you're asking, "this sounds great, but what's the catch?" The biggest weakness of inbound marketing is also its strength: it doesn't happen overnight. It may take months to start to see the effect of your inbound marketing efforts. With outbound marketing, you can start to see results as soon as your ad campaigns start running. However, these results disappear quickly after your outbound campaign is finished. Inbound campaigns can deliver valuable traffic and leads years after the initial investment.
Pro Tip: Outbound marketing can be a great way to quickly generate website traffic and boost your initial inbound efforts, though finding the right level of outbound spending is critical to ensure that you are finding a profitable return on investment.
Are You a Good Fit for Inbound Marketing?
While all businesses can use elements of inbound, here are six signs that inbound marketing should be more central to your marketing efforts.
You have a sales team.
Having a professional sales staff is a good sign that your sales process is less transactional in nature and more relationship- and trust-driven, two of the key pillars of inbound marketing. Pro Tip: If you need help crafting a sales approach that fits with inbound marketing, check out the Sandler Method training services offered by Boca Chamber member Lewis Fogel.
You make a product or provide an original service.
As a business owner, being an original manufacturer or service provider gives you higher margins, more differentiation, and better control over outside forces.
Your average time from first contact to sale is at least a few days or a week.
Having a decision process that's at least a few days long is a great sign that your customers need time to research and consider a purchase, giving you an opportunity to influence their decision.
You have some concept of an online "conversion" like someone filling out a contact us form or making a reservation
Online conversions give you a target for optimization and let you generate business opportunities 24/7, whenever your prospects are engaged.
The average purchase price of your product or service is more than $500 and less than $50,000.
Like the average time from contact to sale, a higher ASP indicates more consideration for both B2B and B2C purchases, making it a better fit for inbound marketing.
You have at least $3-5 million dollars in annual revenue
If you're still starting up and establishing your revenue streams, you may not have enough resources to invest in inbound. Implementing good processes and thinking like an inbound marketer is a great place to start.
If you fit with four or more of the criteria above, you should consider using a more inbound approach for your marketing.
How Do You Get Started with Inbound Marketing?
Grade your website's current inbound effectiveness using Hubspot's free

Website Grader

.

Pursue your free certification as an

Inbound Marketing expert

.

Research inbound marketing agencies that can help you conduct a more thorough evaluation of your inbound potential. Pro Tip: Look for a variety of agencies, including those that specialize in your specific industry or type of customer. Since inbound is a longer term play, you'll need an agency partner that you can work closely with and really understands your business needs.
Part of the Boca Chamber Capture to Convert content series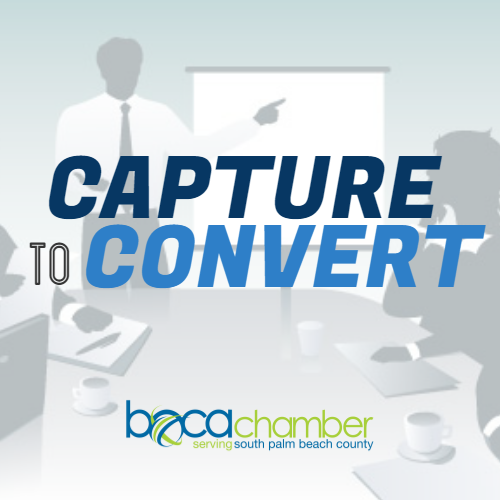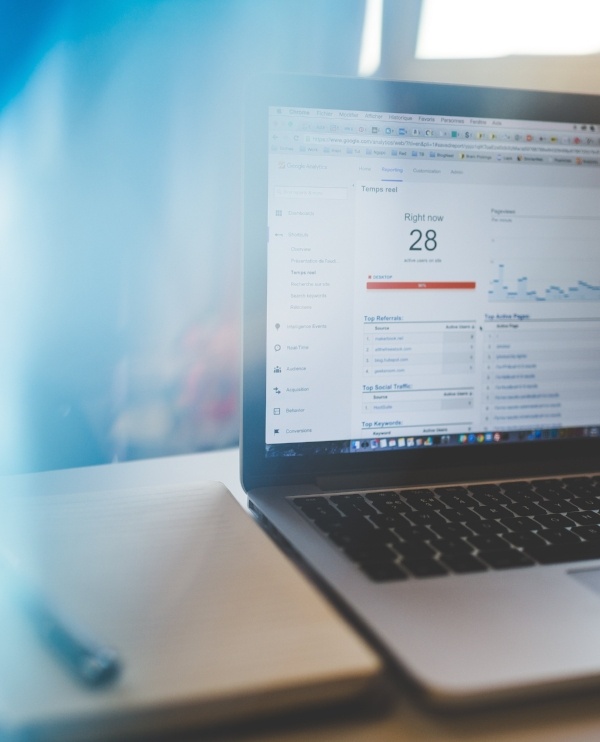 Measure What Matters. Data Makes The Difference.
Free Guide: The 6 Marketing Metrics You Should Actually Care About
Don't get distracted by social shares, clicks, impressions, influencer scores, or other low-level metrics. This guide to the 6 Marketing Metrics You Should Actually Care About will show you how to measure what really matters for your business success.