This week, I completed HubSpot's Sales Enablement certification and discovered a fascinating new concept called Jobs To Be Done. The short version is that we all hire products and services to do jobs on our behalf. For example, you hire your lunchtime sandwich to do the job of satisfying your hunger and giving you the enjoyment of a flavorful meal. Your sandwich also has to do the job of being affordable and portable, especially if you make it at home. Often, we hire multiple products or services to work as a team to get the job done. In this example, you may also hire a bottled water and a bag of chips.
So, what's YOUR digital consultant's job description? What's the real job you need them to do? If it sounds like the one I've listed below, then we'd be happy to throw our hat in the ring and get the job done for you.
It may sound simple, but it is a powerful way to frame the different purchase decisions that you make as a consumer and as a business owner. One of the biggest decisions you make is who to hire as expert for how to approach your digital marketing and sales processes. Many of the business owners I talk to say things like this in our initial conversation:
"I need to update my website"
"I need to do SEO"
"I need to advertise on Facebook"
"I need to do email marketing"
"I need to get a CRM system"
What they're really saying is "I have a job that needs to be done and I can't do it myself."
What's The Real Job To Be Done?
Often, the real job is not what they're saying out loud. The real job is something more fundamental to their business success or a problem that they are currently experiencing.
Let's translate some of these statements into jobs to be done.
"I need to update my website" becomes "I need product or service X to make my business look good online so that I can get more customers."
"I need to do SEO" becomes "I think I'm missing out on Google search traffic because I'm not getting any business that way. I need someone to start bringing in new leads from search traffic"
"I need to get a CRM system" becomes "I need product or service X to take control of our sales process and make sense of it for me. I need that product or service to show me what's actually happening in our sales pipeline so that I can manage our growth."
Your Digital Consultant's Job Description
Do you have a job description for your digital marketing consultant? Do you know what job they're doing for you? How well are they doing it? When clients and consultants aren't aligned on the job to be done, then no one is satisfied with the relationship. Clients feel like the consultant's work doesn't really deliver what they really need, and consultants don't feel like the work they're doing is appreciated.
Write the job description for your digital consultant. Ask yourself the following questions:
What goals am I seeking for the consultant to achieve? Are they SMART goals?
What will be the consultant's ongoing responsibilities?
What skills do they need to have to do this job?
What will I need to provide to them so they can do their job?
How will they fit with my company culture and values?
When you've got this job description finished, ask yourself if you would hire your current consultant or agency to do this job? How well do they fit these criteria? If they're not measuring up, you need to evaluate if they are the right consulting firm for the job or if you need to bring in a different partner.
The Red Reef Digital Ideal Job Description
As a business owner, the first question I asked was, "what's the ideal job for Red Reef Digital to do?" Not only does this help us frame the clients for whom we can truly be a hero, it also shows us which jobs we're not well suited for.
Here's my first draft of the job description for our ideal fit with a client
Digital Marketing And Sales Consulting Firm
Description
Client X seeks an experienced digital team to give us better control over our current marketing and sales process to grow our business by X% over the next 3 years. Qualified applicants should be skilled in developing marketing programs and sales enablement systems in a way that is metrics-driven and values-based. Consultants should leverage next-generation data visualization techniques to provide clear and actionable business growth insights at all levels of the sales, marketing, and executive organizations. Consultants will be expected to quickly gain a deep understanding of our business and lead multi-functional teams to create sustainable business growth strategies. Applicants are expected to provide the marketing and sales services necessary to enable business growth.
Skills
Marketing Strategy Development
Sales Enablement
Data Visualizations and Dashboards
Marketing Automation (MAS) and Customer Relationship Management (CRM) Systems Implementation
Marketing Technology Stack Architecture
Content-driven Campaign Development
Marketing and Sales Innovation
Goals
Create a marketing and sales growth roadmap within first 45 days of engagement
Lead creation and alignment of marketing and sales Service Level Agreement (SLA) and ongoing SMarketing processes within first 45 days of engagement
Develop marketing campaigns to generate new MQLs according to goals in SLA
Implement sales enablement program to ensure sales delivery according to SLA goals
Culture and Values
Data-driven and objective with decisions and communications
Not afraid to educate and challenge client assumptions to seek the best solution for the client's business
Embraces innovation where it delivers business value
Moves quickly with deliberate speed and purpose to deliver value immediately
Platforms and Technologies
Would you hire us? Maybe you shouldn't!
So when you read that job description, does it sound like the job that you need done? Is the candidate a good fit for what you need? The great thing about the Jobs To Be Done framework is that it also helps you identify which products and services are NOT doing the job you need. Maybe your job is to improve your Marketo processes. We're not a good fit for that. We're also not good at tap dancing or improving manufacturing and operations processes. The faster we can figure out if the job that needs to be done is not the right one for us, the more time we have to focus on the jobs we CAN do well.
Take Control of Your Business Growth
If there's a short way of saying it: our job is to help you take control of your business growth in a way that is data-driven and sustainable for years to come. We do that using inbound marketing and sales best practices, a team of experienced digital marketing and sales consultants, best-in-class marketing automation and CRM systems, and innovative data visualization platforms.
What's YOUR digital marketing and sales consultant or agency's job description? How well are they doing that?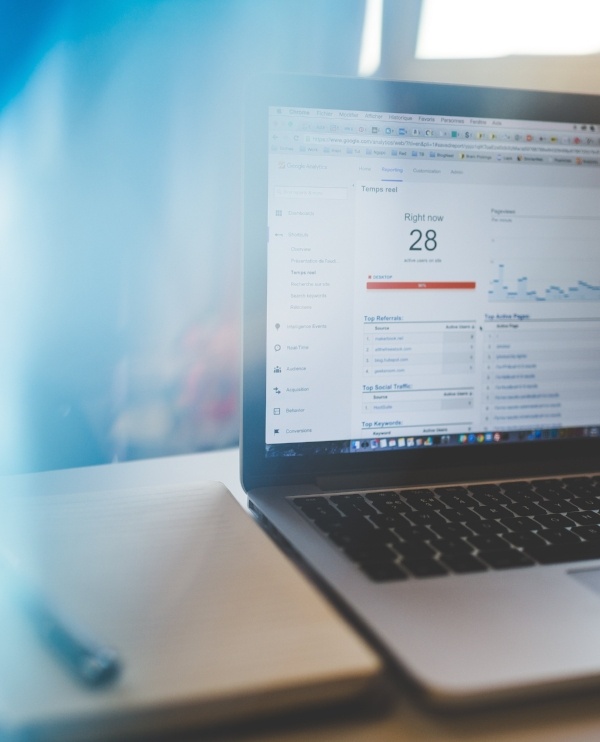 Measure What Matters. Data Makes The Difference.
Free Guide: The 6 Marketing Metrics You Should Actually Care About
Don't get distracted by social shares, clicks, impressions, influencer scores, or other low-level metrics. This guide to the 6 Marketing Metrics You Should Actually Care About will show you how to measure what really matters for your business success.